Regular income without having to move a finger is every investor's dream. In the past, having a stable portfolio with a steady income stream used to be difficult. However, these days, with fintech revolution paving the way for new, safer and more profitable investment alternatives, everyone can choose to employ their money to make more money.
If you are at least somewhat aware of the fintech revolution fruits, you probably have heard of cryptocurrencies, ICO's or such companies as Revolut or TransferWise. Another one of fintech revolution gems is Fast Invest.
While traditional players are stuck with their old ways, forward-thinking organizations stay ahead of the competition by employing the newest technological developments and move a step forward towards creating a better world for everyone.
Fast Invest is one of the fastest growing multi-service P2P lending marketplaces in Europe. Established in 2012, back in 2015 the company has turned into online investment platform. Today it employs more than 50 people and works with more than 8500 clients in United Kingdom, Spain, Austria, Germany, Poland, Belgium, Finland and the Netherlands.
The idea behind Fast Invest is simple: everyone can join the platform and start investing with as little as €1. While that may not sound that too exciting just yet, Fast Invest is full of perks. For instance, no matter what size your investment is, it is eligible for BuyBack and Default guarantees. BuyBack guarantee ensures that you will get your investment back whenever you request it and default guarantee secures your money in case the investment defaults.
Fast Invest is rapidly growing. Plans to expand to China, Malaysia, India, Australia, United States, France and Sweden indicate that the firm is likely to enjoy further success. According to company's CEO Simona Vaitkune, the main reason behind Fast Invest advancement is a constant drive for best results, high work ethics and strive for perfection. "If our clients succeed, we succeed" is the mantra here.
Investment opportunities
Fast Invest always strives to provide truthful, transparent and complete information about investment portfolios, so that the clients could make thoroughly informed decisions. Since 2015 Fast Invest runs an online investment marketplace which gives its members an opportunity to finance loans, ability to use e-money wallet and exchange multiple currencies at little to no fees.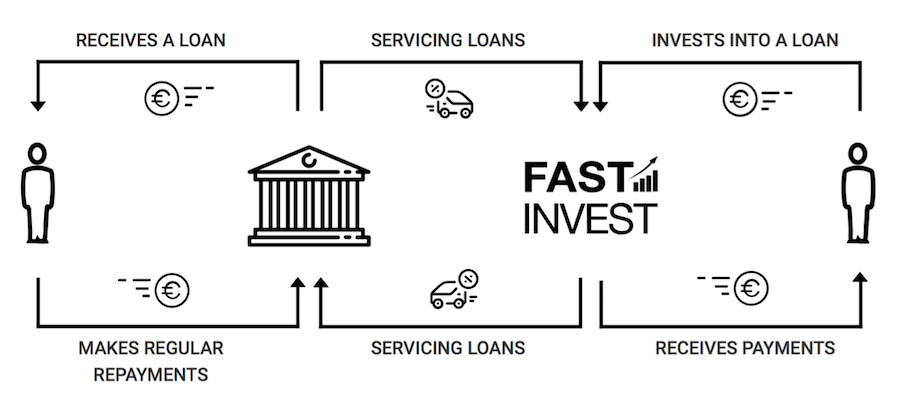 Fast Invest business model. Source: White paper.
As the company grows, it also explores new ways to build a stable, well-informed and enthusiastic investor community. That is why the next big business move for Fast Invest is cryptocurrency services, including – Bitcoin, Ethereum, Ripple crypto loans and trading.
The services will run on its own Ethereum ERC20 blockchain, which will also generate FIT tokens. A Fast Invest Initial Coin Offering will take place on December 4th, 2017 10:00 AM London time and is truly exciting. FIT tokens will allow Fast Invest users to access its cryptocurrency services and differently from other ICO's, Fast Invest is a real business which already works. Therefore, it is another opportunity for the investors and crypto enthusiasts.
Early contributors will have a chance to get FIT tokens with a 20% discount rate. The initial FIT to ETH ratio will be 1:1000. Also, first 1000 members to hold at least 1000 FIT or more will receive individual edition payments cards and other benefits of Fast Invest community. These developments mean that Fast Invest users will be able to invest in cryptocurrencies and crypto loans, as well as other valuables in the future, making it one of the most versatile investment platforms out there.
P2P Lending is for everyone
As of today, savings account rates offered by banks are historically low. While ten years ago you could easily get over 4 - 6% of annual return, today you're lucky to find a bank which proposes a measly 1.5%. Currently, peer-to-peer lending remains Fast Invest core business. Although cryptocurrencies sound exciting, P2P investment opportunities should not be overlooked as well. But what exactly is it?
Peer-to-peer (P2P) is one of the fastest growing investment methods. It is lending your money to someone else – financing someone's loan. In the past few years, it has witnessed a significant increase in popularity and since 2010, the market has grown over 7000% with no signs of stopping. Some experts predict that by 2025, the P2P market will reach 1 trillion US dollars. Essentially, P2P loans are in the same class assets like real estate, gold or any other valuables. People prefer P2P borrowing due to its accessibility and low-interest rates. Meanwhile, investors enjoy 8-15% return, which is much higher than a regular savings account.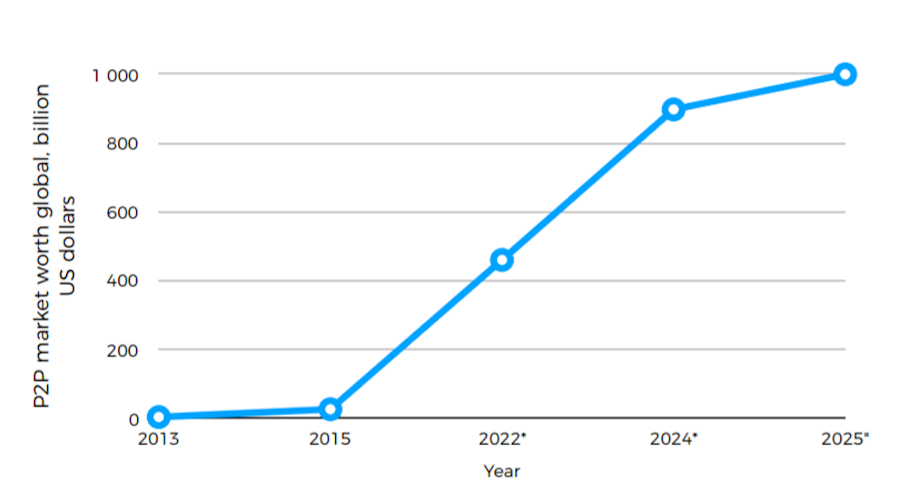 P2P market worth. Source: White paper.
Overall, P2P investments are both exciting and attractive investment niche. Majority of investors recognize the difference between 1,5% savings account rate and up to 15% in P2P. However, it is mandatory that every lender should consider the risks before jumping on the bandwagon. If you're interested in P2P lending, critically think about the following advantages and disadvantages of P2P lending:
Advantages

Both individuals and businesses are eligible to invest in a P2P loan.

Relatively easy to sign up and begin to invest online (Fast Invest exclusive).

Higher than usual rate of returns.

Wide selection of different loans in a portfolio along with borrowers credit score (Fast Invest exclusive).

Ability to receive monthly interest payments as the loans are being repaid.

Ability to reinvest or withdraw the received payments.

Opportunity to invest in cryptocurrencies (Fast Invest exclusive).

Disadvantages

Substantial returns are always backed with a certain degree of risk.

The money by lenders can be uninsured, meaning that if borrower squanders, the investment may default.

Stock market investors may have to get used to an adjustment period since the invested money cannot be withdrawn upon request. On the bright side, it also helps to avoid one of the most common investment pitfall - panic selling.
However, Fast Invest offers unique BuyBack and Default guarantees, which help to minimize risk for the investors. BuyBack guarantee is useful when a particular investor needs their money before the lending period expires. Usually, other P2P platforms offer to sell the loan off on the secondary market, but the process can take days and serious buyers are hard to find. Fast Invest does not have any secondary marketplace and will buy back your loan in such case.
Default guarantee is another security measure used when borrowers are unable to pay installments on time. For instance, if a borrower's delay in payment exceeds three days, the Fast Invest default guarantee kicks in and investors receive both capital and interests for the investment period. As a result, the profit anticipated from the investment is ensured. On top of that, all the loans are insured (since it is required by law), this way eliminating the risk of system failure. In that way, Fast Invest always have your back.
Cryptocurrencies and the new era of financial investment
Comfortable, secure and profitable are three main buzzwords used to describe Fast Invest. However, this list is not complete without another one: innovative. Strict work ethics and a strong drive for best results combined with open-mindedness and innovation make it a genuinely compelling proposition.
That is why Fast Invest seeks to become a P2P crypto loan powerhouse, thus marking a new era of financial investment. Imagine the potential of a trustworthy P2P crypto loan marketplace accessible to everyone. Ability to use blockchain technologies removes financial barriers, reduces costs and presents new ways to diversify portfolios.
However, to trade cryptocurrencies with Fast Invest, you will need to obtain a minimum of 1000 FIT coins first. As mentioned before, first 1000 members of crypto trade on Fast Invest platform will also receive its special edition payment card, which can be used for both online and offline payments for daily goods and will function as an ordinary payment card.
If you're interested in the possibility to acquire FIT tokens, Fast Invest will launch an ICO sale, which will take place on December 4th, 2017 and will last until January 31, 2018. During that period, 388 500 000 FIT tokens will be sold. 38 50 000 FIT tokens will be offered with a special 20% discount rate. Starting Fast Invest token rate is going to be 1 ETH = 1200 FIT until the soft cap is reached and 1000 FIT after that.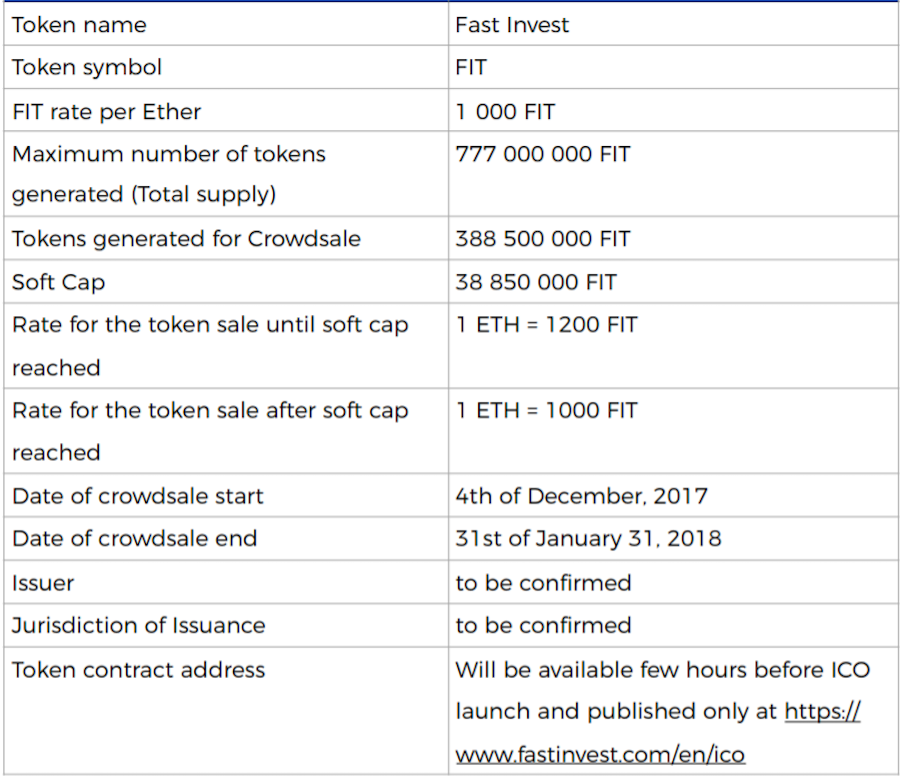 Fast Invest token fact sheet. Source: White paper.
Digital currency exchange of the future
Another aspect of the platform is its digital currency exchange function. It allows users to effortlessly swap cryptocurrencies into other digital money and fiat currencies such as euros or dollars.The best part is that Fast Invest offers a 24-hour customer support to help you navigate your way in case you need guidance, although the platform itself is quite user-friendly and easy to use. Essentially, it lets you keep a portfolio of both fiat and cryptocurrencies on a single platform and enjoy low exchange rates.
Become an investor and reap the benefits now
Fast Invest is different from the other P2P investment platforms in many ways. The lowest entry point, starting with investments as little as €1, a trustworthy team, many various investment options, high ROI rates, cryptocurrencies and crypto loans without hidden fees make up an attractive offer no serious investor can refuse. Most importantly, the platform functions on safety and transparency principles, have a 24/7 customer support and can guarantee the safety of your investments.
The time has never been as fortunate as it is now to become a part of Fast Invest community. At Fast Invest it doesn't matter where you come from and how rich you are, everyone can become an investor and make your money work for you.