Every now and then, you hear stories of people who managed to increase their wealth dramatically over a few years, and you think (with a slight hint of bitterness), 'Some people get lucky'. But what if we told you that you can grow your money from a humble €10k to €100k in just 5 years?
Sounds like some sort of marketing hoax, doesn't it? But it isn't. It's the perfect combination of commitment to contribute to your financial future and a generous annual interest rate. Let's find out how it can be done.
Meet Ollie
Who's Ollie? He's a fictional persona we brought to life to illustrate how you can grow your money from a smaller sum to a much bulkier one over 5 years.
A graphic designer and a loyal fan of 'Mad Men', Ollie worked hard for this money. Long hours, late nights and - when a tighter deadline hit – not even a weekend in sight. It's a good thing that he loves his job – otherwise, we'd probably feel sorry for him.
Ollie saved for years to reach €10k - and now he is ready to invest his savings with the hope of turning the money into something bigger. 'Money makes money' is a saying for a reason, he thinks - and the time has come to put it to test. Having heard that there are several good reasons to give Alternative Investments ago, Ollie begins his search for a P2P lending company that ticks all the boxes. A few clicks - and Ollie's on the FAST INVEST home page, greeted with information about how easy it is to take the first steps towards P2P lending, as well as generous annual interest rate. Up to 16% annual interest? That's ace!
Ollie learns that there are also MoneyBack Guarantee & BuyBack Guarantee, safeguarding his investment in case his circumstances change, or a borrower is late to make a repayment. Yup – this is the company he will trust with his savings.

Money Makes Money
In a month's time, Ollie's investment portfolio has grown by €117. His savings have been put to work without him having to lift a finger – he simply deposited money to his account, letting the Auto Invest tool do the rest. If you're not familiar with the Auto Invest tool yet – it is an automated investment function, which we've designed to help you make money without having to do very much at all. Register for a free account, add funds and create an auto-invest portfolio by adjusting your preferred parameters. The Auto Invest tool will do the rest – it'll automatically find loans in our Loan List according to your portfolio settings, and will invest your money in those loans. There you have it.
The returns are fantastic, but is there a way to make my money work harder? Ambition is Ollie's prevalent personality trait, so it's not surprising that he's keen to find a way to give his earnings an even bigger boost. This is where the Auto Invest tool comes in handy. Ollie spends some time playing with the tool, to see how much he could earn if he invested an additional sum each month (say, an extra €870). That would mean picking up some extra work – but Ollie had always thought sleep was overrated. As the returns look really promising, Ollie knows it would be silly not to take advantage of them. He may need to say 'no' to a few pub crawls and turn down a weekend away with the boys – but he'll do his best to contribute an additional €870 each month. After all, having more financial freedom in the future will allow him to go on many more weekends away – and maybe not just weekends, who knows?
One year later, Ollie kept his promise and invested an additional €870 into his portfolio each month. Tightening the purse strings and making regular additional investments paid off: Ollie saw his portfolio more than double before his eyes. Plus, he earned over €2,000 in interest payments. You'll probably agree when we say that it's a hefty sum to earn without doing much.
Over 3 years, his portfolio grew to €55,078! Plus, he made over €14k in investment payments – more than the initial amount he invested! Brace yourselves before you hear this: 5 years later, Ollie's portfolio is worth €100,433 - over ten times more than his initial investment. Moreover, he earned a staggering €38,986 in interest payments. That's money he managed to make over 5 years, by paying in an additional €870 each month – without having to do anything else. Pretty good, isn't it?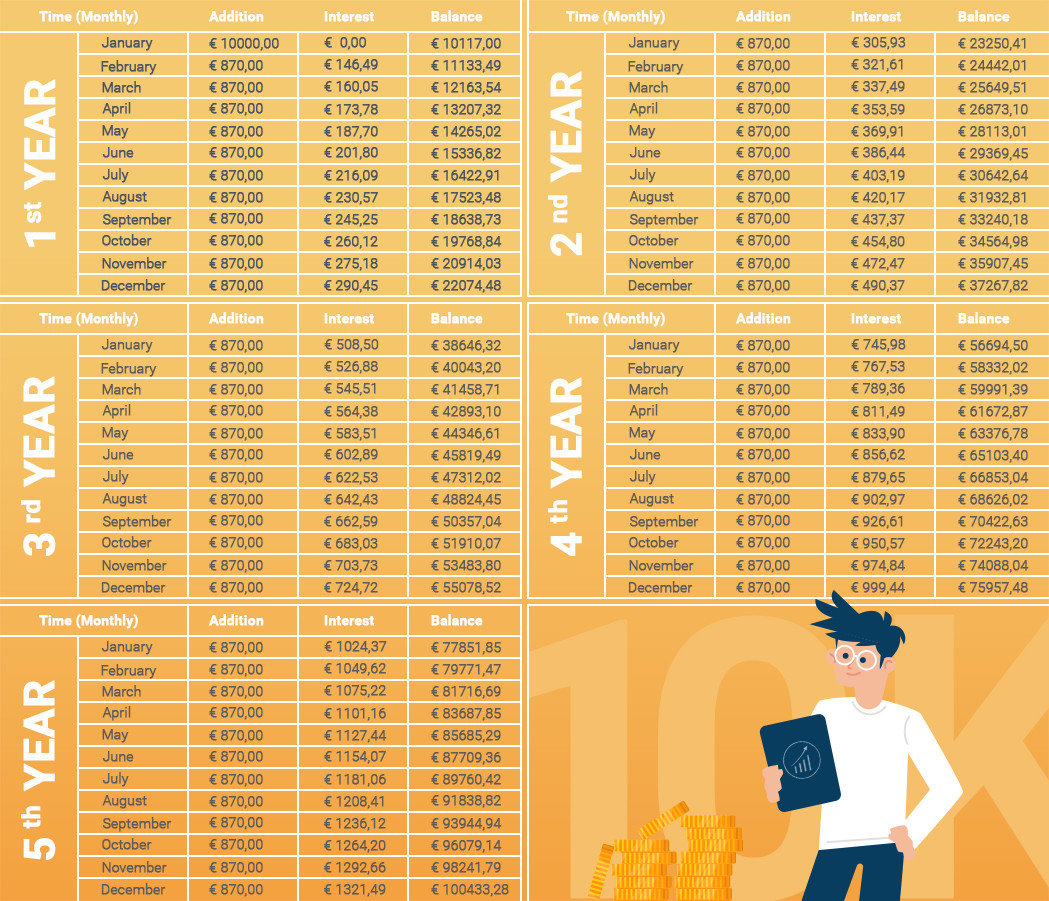 Secure Your Financial Future
As you can see, Ollie's ability to turn his €10k into a €100k over 5 years didn't have much to do with luck. His commitment to securing a better financial future, paired with the right investment tools, allowed him to make money while he sleeps. The money he earned will not only pay for his weekends away now - he'll be able to do so much more than that. Just a few examples…
Make a down payment on a house;
Buy a new car;
Pay for a specialist graphic design course;
Buy new equipment for his work;
Or - travel the world if he'd like!
But, you know what Ollie has decided? Whatever he ends up doing with the money he has earned, he's going to continue investing a large chunk of it.
By using smart financial IT tech, FAST INVEST are able to reduce financial costs that big banks can't avoid. This way, we are can offer up to 16% annual interest rate, allowing your savings to skyrocket - while we keep your money secure.