29
Oct
PropTech 2.0: new buzz word or significant disruption?
Right now, thousands of extremely clever people backed by billions of dollars of often expert investment are working very hard to change the way real estate is traded, used and operated. It would be surprising, to say the least, if this burst of activity – let's call it PropTech 2.0 - does not lead to some significant change. No doubt many PropTech firms will fail and a lot of money will be lost, but there will be some very successful survivors who will in time have a radical impact on what has been a slow-moving, conservative industry. How, and where, will this happen? PropTech 2.0 is also engineering a much-needed boost to property market diversity. Unlike many traditional real estate businesses, PropTech is attracting a diversified pool of talent that has a strong female component, representation from different regions of the world and entrepreneurs from a highly diverse career and education background. Given the difference in background between the establishment and the drivers of the PropTech wave, it is not surprising that there is some disagreement about the level of disruption that PropTech 2.0 will create.

PropTech is the collective term used to describe the wave of tech innovations set to disrupt real estate markets. The future is both exciting and hard to predict for the real estate industry at the moment as PropTech is already starting to make its presence felt in both the residential and commercial property worlds. There may be some work to get through before its effects are as game-changing as the FinTech (Finance Technology) disruption we are currently witnessing, but as with all other disruptive technology waves, the future is nearer than you might think. The internet and mobile telephony have enabled a boom in technology platforms applied to nearly all areas of our lives – jobs, homes, education, health, leisure, finance, and even romance. This has happened through the facilitation of three different activities. These are as follows. Information provision Wikipedia, the BBC website and on-line newspapers are examples of on-line information engines. Initially, the internet, mobile telephony, social networking, and e-mail were all about information, hence the previously ubiquitous use of the term 'infotech'. Transactions Information is the key input into the due diligence phase of a transaction. Shopping on-line was, therefore, the natural next phase of technology development. Paypal, Amazon and on-line banking are examples of internet and mobile telephony being used as a medium for the exchange of money, goods, and services. Management and control PCs, tablets and mobile phones are potential dashboards for controlling electronic functions. The Internet of Things (IoT) allows objects to be measured (information provision) but also sensed and/or controlled remotely across the existing network infrastructure, creating opportunities to adjust or turn systems on or off remotely. As an example, Google's 2014 acquisition of Nest to create a Google IoT division was seen at the time as a significant moment. Also, the remote control of driverless cars and delivery vehicles, plus bots offering a range of services, are setting in motion many thought processes Imagineering the likely future of logistics and retail real estate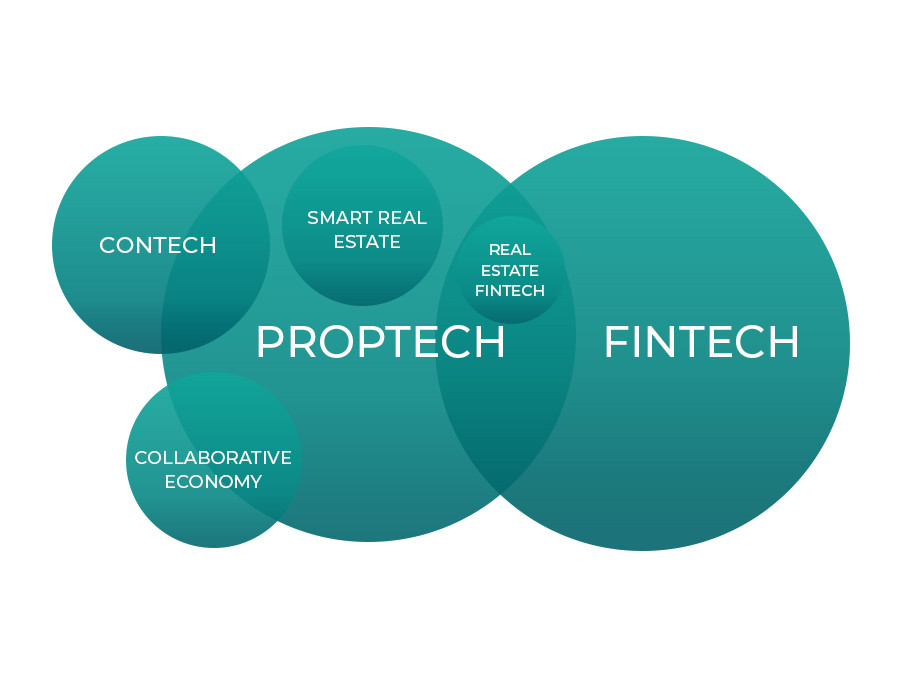 Technology-based platforms that facilitate the operation and management of real estate assets. The assets can be single property units or entire cities. The platforms may simply provide information about building or urban center performance, or they may directly facilitate or control building services. This sector supports real estate asset, property and facilities management.

Technology-based platforms that facilitate the use of real estate assets. The assets can be land or buildings, including offices, shops, storage, housing, and other property types. The platforms may simply provide information for prospective users and sellers of space, or they may more directly facilitate or effect rent- or fee-based transactions. This sector supports real estate occupier markets.

Technology-based platforms that facilitate the trading of real estate asset ownership. The assets can be buildings, shares or funds, debt or equity; ownership can be freehold or leasehold. The platforms may simply provide information for prospective buyers and sellers, or they may more directly facilitate or effect transactions of asset ownership or leases with a (negative or positive) capital value.

Whilst it's impossible to predict the future of technology with any degree of certainty, we can make some pretty educated assumptions based on the existing PropTech ecosystem as well as the evolution of previous tech waves. The adoption and longevity of any technology hinge ultimately on whether it improves the lives of its users. In the world of real estate, this means that many specialisms will be enhanced by new and emerging tech solutions whilst others may be replaced entirely. It's not hard to imagine a future only a few years away from now when a company might be able to find and acquire properties by leveraging Big Data. Blockchain technology can then be used to drastically speed up the purchase. Thereafter a model of the renovated property can be quickly generated with 3D printing technology and, finally, interactive tours of the property can be offered with the use of Virtual Reality to assist with selling. But this is only one scenario in an ever more complex landscape and how tech might shape for any given specialism within the real estate sector is best assessed by an experienced head with a good understanding of the emerging trends in the industry. Here are five real estate technology trends to keep an eye on this year and beyond.

Thanks to the existing ecosystem, available research, and PropTech trends, it's much easier to make pretty good assumptions. As more companies capitalize on technological innovation, a few PropTech trends are likely to shape the real estate industry in particular:

Collecting and analyzing big data is enabling real estate market players to make more informed and data-driven decisions, especially when it comes to investing in properties, as well as managing them afterward. That's hardly surprising, given that powerful analytical tools are becoming more and more available. As a result, companies can now use them to find attractive investment opportunities, as well as to store and access information on various aspects of their properties (including their history, ownership cost, current value, details of the neighborhood or estimated forecast of future valuation, just to name a few).

To maintain customer satisfaction, companies across industries are striving to provide seamless user experience and instant gratification - and real estate is no different. Fortunately, PropTech has the power to meet the expectations of those customers with a here-and-now mentality. Take real estate marketplaces, as an example: these digital platforms allow you to search online for properties to build, buy, sell or rent with ease. They have incredible potential for saving time and money, not to mention streamlining processes that are fundamental to the industry. The increasing popularity of such marketplaces actually creates an on-demand housing market that aligns with customer expectations these days.

Smart building technologies are actually named one of the most disruptive innovations that PropTech is responsible for. For some time now, IoT has been helping in monitoring and improving living & working conditions, especially when it comes to energy savings. As a customer (in this case: tenant) experience has been emphasized, though, IoT solutions are becoming more advanced. This, in turn, makes the smart property management a competitive differentiator for owners and property managers.

The commercial real estate industry is undergoing significant changes thanks to a SPaaS business model. Essentially, landlords start to provide their tenants not only with actual space, but with a set of additional services as well (such as Internet connection, furniture, fixtures, or anything that's needed to use the space more effectively). These facilities are relatively easy to implement, which might be why coworking and co-living spaces are increasingly more popular.

Let's face it - smart property management wouldn't be that easy and accessible without mobile technology. There are plenty of PropTech startups that revolve around mobile apps, allowing their users to keep an eye on their properties and stay connected to the community wherever they are. When it comes to coworking spaces and student housing, though, mobile apps can also help the tenants to take advantage of available facilities, manage their accounts, or even pay rent - which makes the payments much easier (and more timely) for both tenants and landlords.

Real estate used to be seen as very conservative when it comes to applying innovative solutions in practice. In fact, PropTech was still barely mentioned a few years ago. Before we move on to the definition and impact of PropTech, though, let's focus on the challenges and opportunities in real estate up-to-date.

According to the PwC Emerging Trends in Real Estate Europe report, the overall sentiment in the real estate industry is rather positive. Still, the biggest concerns for the investors are linked to high investment asset prices, which also influence the growing risk of misguided investments and associated costs. Given the predicted economic downturn, these issues are likely to become major threats to the property industry in the near future. Fortunately, using advanced analytics to evaluate investments can minimize those risks.

The past several years have demonstrated that real estate technology is on an upward climb, delivering undeniable value to the largest asset class in the world. We've seen venture investments increase year over year, with investment in the sector nearing $20B, a 38% increase in 2017, according to Venture Scanner. With these investments, we've also seen some of the most creative, innovative, and dynamic purpose-built creations and the industry has shown no signs of halting when it comes to creativity. One narrative to watch as the industry continues to evolve includes a strong commitment to eco-friendly mechanisms, as they will become a priority for most future employees, corporations, and consumers.
Today, more than 90% of CEOs say that sustainability is fundamental for success and, 66% of consumers are willing to spend more on a product if it came from a sustainable brand. Property technology is no exception to the rule and will see the creation of stronger eco-friendly mechanisms as corporations, on the whole, are being held accountable. There will be an uptick in creations that help build smart, connected buildings that are able to conserve, reduce, reuse resources in efficient and meaningful ways. We will inevitably see a more user-centric approach to development. PropTech has already proven to improve the work-life integration of its users by improving productivity and efficiency. While we will see a focus on the user and a more people-centric approach it will increasingly be done through an A-centric approach, automation, and tech tools that will help predict and provide more meaning to the end consumers.
We also expect to see a decrease in proprietary software. While proprietary software once allowed landlords to personalize their buildings, it will become a thing of the past. As more and more PropTech companies are built and continue to address the needs of different users, landlords will stop trying to build proprietary software as it is not their core business and they are unable to maintain such solutions, and they will leave it to the experts.
Furthermore, it is expected that the implementation, availability, and or access to certain technologies will become a decision point for employees. About 70% of Americans are disengaged at work, while businesses with a strong learning culture enjoy employee engagement and retention rates around 30-50% higher than those that don't. In the past several years we've seen the needs of employees change immensely, from a need to integrate work and life, to a desire for corporate wellness programs. We suspect the demand for a connected technology platform in lease agreements and even employee contracts in on the horizon.
PropTech has proved itself to be one of the fastest-growing investment sectors in the world right now, and like any growing industry, change is inevitable. Predicted to reshape traditional real-estate, the future of the industry is endless. Which, leads us to the reigning trend, one that regardless of the size of your company, your current initiatives, or where you work, will become a pain point for growth. The ability to feed the need for mass integration.

The real estate sector is ripe for change, being famous for its lack of capacity for deep and continuing innovation. We need to make sure that we do not under-estimate the capacity of the real estate industry to resist change, and we need to be aware of the generally uncritical positive spin put out by those tech businesses with vested interests. Some exist because technology makes some things possible, but do not serve an obvious need.

VTS PropTech appears to be capturing only around 15% of all VC funding. Real estate is a huge sector but has little or no velocity. If and as this problem is solved, more and more funding will be attracted. This issue means that Real Estate FinTech is where the money is and is probably attracting at least half of all PropTech funding. At the same time, it should be recognized that the smart building sector is the least challenged PropTech segment – the demand is clear, the market huge, the technology increasingly available, and vested interests aligned. A truly transformative PropTech movement is under construction. These firms will eventually bring efficiency and alignment to the market, but they will encounter behavioral obstacles, establishment reaction, and often financial calamity. There is an oversupply of activity in Real Estate FinTech, an excess of optimism in shared economy real estate, but a real need for smart buildings. PropTech 2.0 startups need to respond to these economics before PropTech 3.0 comes along and makes them as obsolete as many of the buildings they rely upon.