Building Financial Freedom: How to earn €100k in 5 Years?
The pursuit of happiness is one of the most important driving forces in our society. Being happy and content is the primary human goal. Nothing in life is better than finding the source of perpetual happiness - a rounded fulfillment. Most people would say that money can't buy happiness, but when it comes to financial freedom or passive income stream, funds are crucial. Making smart and diversified investments while you can is a vital part of accumulating a comfortable future pot. Your financial freedom rests on your ability to make intelligent decisions when it comes to managing money. With the savings interest rates in the gutter, it's no longer enough to be saving every cent. It's time to make those cents venture out and multiply for your best possible future.
Now and then, you hear stories of people who managed to increase their wealth dramatically over a few years, and you think (with a slight hint of bitterness), 'Some people get lucky.' But what if we told you that you could grow your money from a humble €10k to €100k in just five years? Sounds like some marketing hoax, doesn't it? But it isn't. It's the perfect combination of commitment to contribute to your financial future and a generous annual interest rate - all you need is a smart strategy and an investment plan. Let's find out how it can be done.

Challenges Push Society to Evolve
Let's start with an introduction and some essential historical highlights. Should we learn from our global past or assume that bygone periods affect only others and never us? We all understand that lessons from history could stop us from making the same old mistakes, but in general, somehow, some part of humankind chooses the hard way again and again. Nevertheless, there is a counterpart, a rebel, who tries to resist and innovate the system. Back in the days, during the last global financial crisis in 2008, we had one part of society with a different approach to finances. The thing is, that while Millennials didn't seem to be living up to other people's expectations, they were doing things their own way, and like it or not, that's how society evolves. And one of the things that Millennials was doing better than anyone else - investing in consumer finance. Which later derives to P2P world, Investment Loans Online or P2P Investing.

Revolutionizing Consumer Finance Model
The consumer finance model developed following the global financial crisis. While the hard-pressed banks reined in their lending, a vast number of potential borrowers found themselves devoid of options. They needed funds to grow small businesses, to buy new cars to be able to get to work, or to re-decorate homes to welcome new babies. Still, because they lacked the significant collateral the banks suddenly required, they found themselves at a loss. Consumer lending or P2P investment put the financial control back into the hands of the public – and so far, those hands have proved to be far more trustworthy than the big financial institutions! Despite all the nay-sayers and the accusations of ineptitude, it's Millennials who are leading the way in this financial revolution.

Established Belief System In the Face of Covid-19
How could you call the consequences of COVID-19 on the economy? We would not name this impact as a crisis. Call it - a new ambiance, new environmental behavior in the world. And we need to adapt or invent ourselves in new ways because humanity became very vulnerable in many aspects. We transformed ourselves into hypersensitive, defenseless political correct diplomats. We trust the given system and follow it. Does it not sound like a sense of pity? For us, COVID-19 is a litmus paper. It is going to reveal how we react to inconveniencies and awkwardness. Let's enable ourselves to be ready for the future now, while the consumer lending model is approaching the brightest decade.

It All Depends on Your Persistence
The truth is, nothing comes with ease and lack of effort. Don't be naive!
There is no secret that the financial world is a challenging field that requires a lot of knowledge and practice. Even with the tremendous progress in financial services, you must know how to plan and invest your funds on your own. Everything comes with knowledge and experience, the same way you mature with each balance sheet. There is no quick money. You have to start building your financial authority by reading some financial content. Only after you feed yourself with the wisdom of financial magic and understand the financial terms and investment jargon and all explore all the different options you have, you will make the right steps forward your financial freedom.

P2P Alternative Investments Possibilities
With interest rates still, pitiably low, there's little wonder that savers are looking for new, low-risk ways to make their money work. Taking those first few steps away from the safety of the stagnating bank account and into the more vibrant realm of speculation can be scary for the DIY investor, so unless you're a secret thrill-seeker searching for a little jeopardy to get your kicks, it's important to find an investment medium that can deliver comfortable returns without also delivering a daily heart attack.
P2P alternative investments are not inherently risk-free. Neither does it guarantee a high rate of return. As an investor, you have to play your part. It's down to you to research what's available; to look at the fees and securities that are on offer; to spread your investments to avoid having them be swallowed whole by an unsuccessful venture, and to utilize the tools available to you. If, however, you do all of these things, you stand a perfect chance of making yourself a passive income that's really worth having. Give it time, reinvest your interest, make every cent work for you, and before too long, your original €100 will have numerous new friends to play with. Let us prove this scenario to you!

Introduction of Ollie
Who's Ollie? He's a fictional persona we brought to life to illustrate how you can grow your money from a smaller sum to a much bulkier one in 5 years.
A graphic designer and a loyal fan of 'Mad Men,' Ollie worked hard for this money. Long hours, late nights, and - when a tighter deadline hit – not even a weekend insight. It's a good thing that he loves his job – otherwise, we'd probably feel sorry for him.
Ollie saved for years to reach €10k - and now he is ready to invest his savings with the hope of turning the money into something bigger. 'Money makes money' is a saying for a reason, he thinks - and the time has come to put it to test. He was having heard that there are several good reasons to try Alternative Investments. Ollie begins his search for a P2P Alternative Investment platform that suits his needs best. A few clicks - and Ollie's on the FAST INVEST home page, greeted with information, unique philosophy, and inspiration about the responsible investments. FAST INVEST encourages every investor to grow their knowledge about investments and how to make the investment as an art, not as a game—by the way, offering a very generous annual interest rate. Up to 18% annual interest rate? That's ace!
Ollie learns that there are also many other perks - loyal and responsible investors audience. Yup – this is the platform he will trust with his savings.

The True Attribute of Luxury
FAST INVEST platform is a state of the art financial tool. Our engine helps society to build passive income streams and to achieve financial freedom in the short term. Our vision to develop a smart and financially responsible community that contributes to the common good. By this, we mean not the latest phones, cars, or luxury watches. Material attributes play a secondary role in our mindset. The most significant investment is a self-development, the ability to allocate resources responsibly and rationally. FAST INVEST has an intention to inspire people and be always ready to pursue bigger goals. The concept is based on the symbiosis of a responsible act, altruistic notion, and academic discipline. This particular harmony builds a broader context and awareness of our presence in our society. To be a part of the community is a unique inclusion, and it is something bigger than you alone.
Responsible citizens of society - this is the key attribute of luxury.

How to Make Money Work for You
In a month, Ollie's investment portfolio has grown by €145. His savings have been put to work without him having to lift a finger – he simply deposited money to his account, letting the AUTO INVEST tool do the rest. If you're not familiar with the AUTO INVEST tool yet – it is an automated investment function – it'll automatically find loans in our Loan List according to your portfolio settings, and will invest your money in those loans. There you have it.
The returns are fantastic, but is there a way to make my money work harder? Ambition is Ollie's prevalent personality trait, so it's not surprising that he's keen to find a way to give his earnings an even more significant boost. Ollie spends some time to know the engine; he finds out how much he could earn if he invested an additional sum each month (say, an extra €870). That would mean picking up some extra work – but Ollie had always thought sleep was overrated. As the returns look really promising, Ollie knows it would be silly not to take advantage of them. He may need to say 'no' to a few pubs crawls and turn down a weekend away with the boys – but he'll do his best to contribute an additional €870 each month. After all, having more financial freedom in the future will allow him to go on many more weekends away – and maybe not just weekends, who knows?

Saving and Investing Goes a Long Way
One year later, Ollie kept his promise and invested an additional €870 into his portfolio each month. Tightening the purse strings and making regular additional investments paid off: Ollie saw his portfolio more than double before his eyes. Plus, he earned over €2,000 in interest payments. You'll probably agree when we say that it's a hefty sum to win without doing much.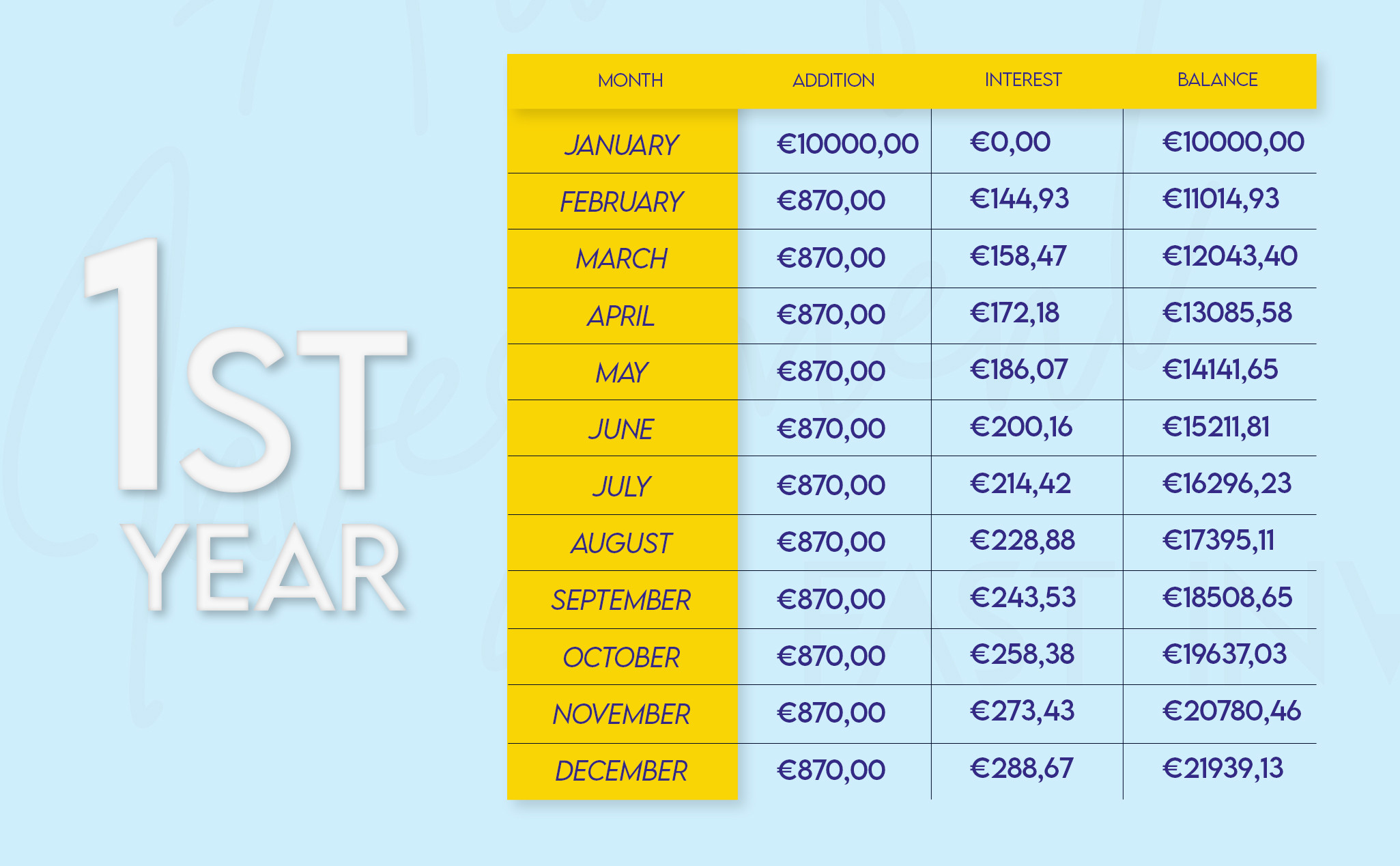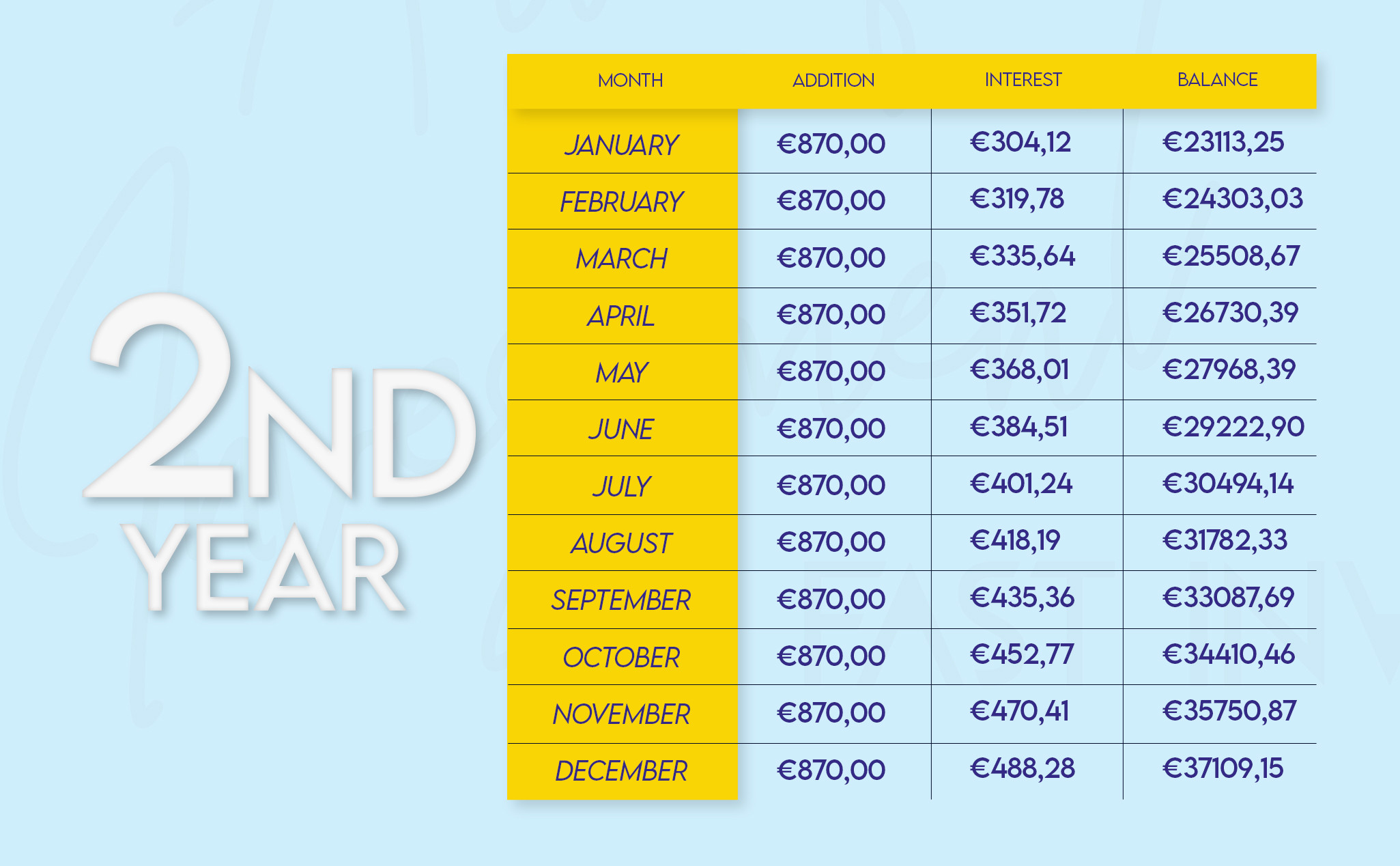 Sticking to The Plan Pays Off
Over three years, his portfolio grew to €54,892! Plus, he made over €14k in investment payments – more than the initial amount he invested! Brace yourselves before you hear the following story.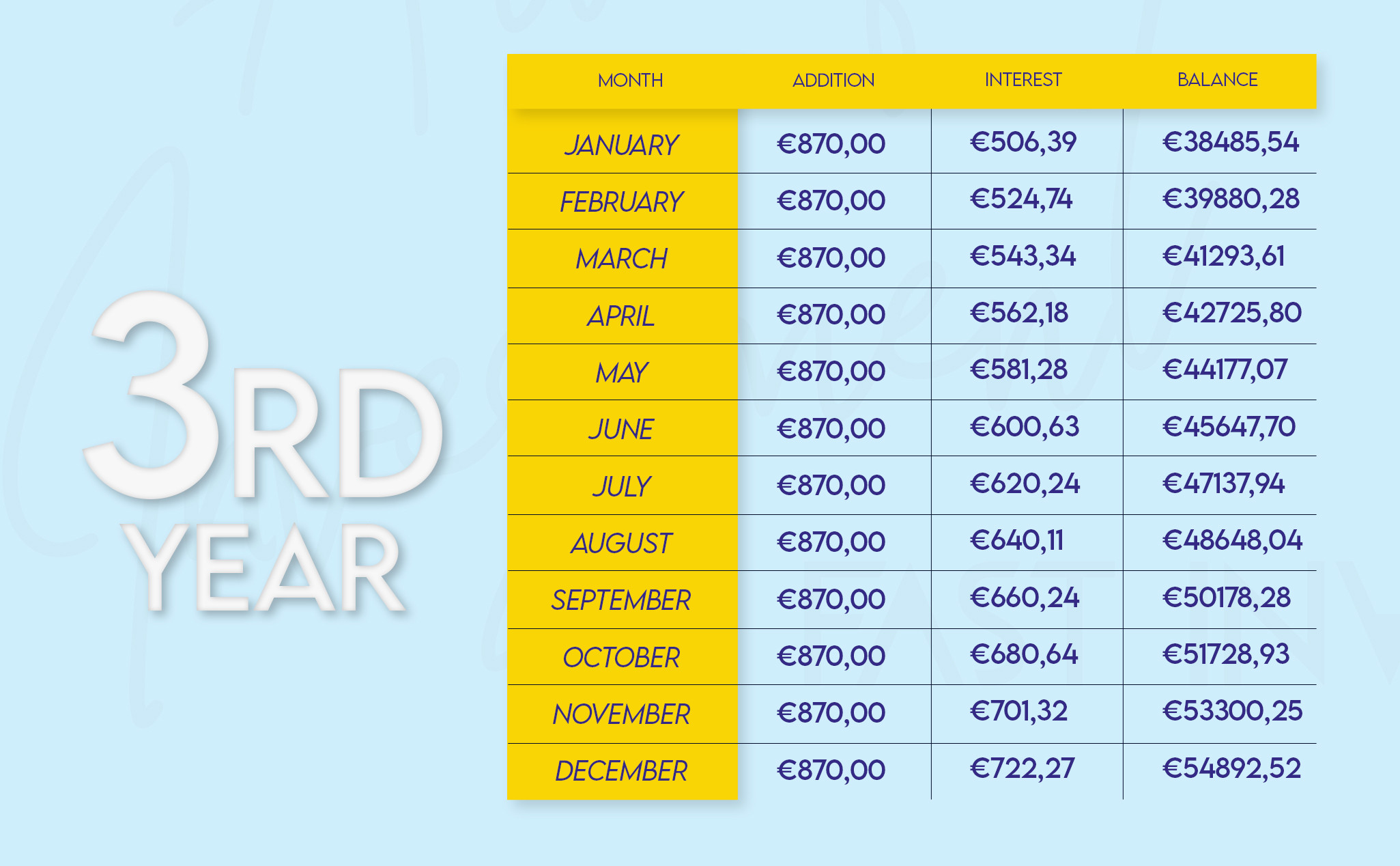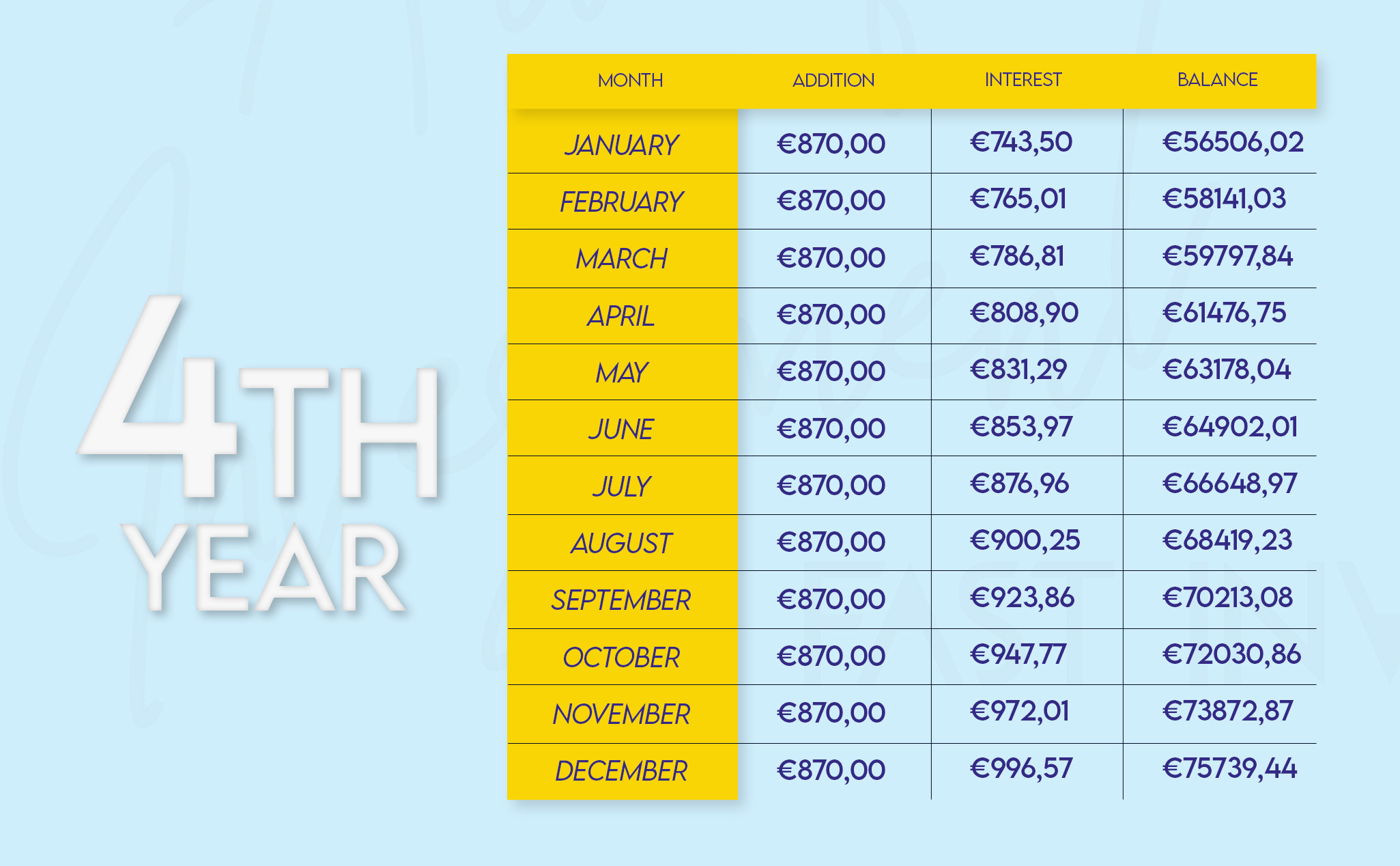 Achieving Goals: 100K in 5 Years
5 years later, Ollie's portfolio is worth €100,177 - over ten times more than his initial investment. Moreover, he earned a staggering €38,847 in interest payments. That's money he managed to make in 5 years, by paying in an additional €870 each month – without having to do anything else. Pretty good, isn't it?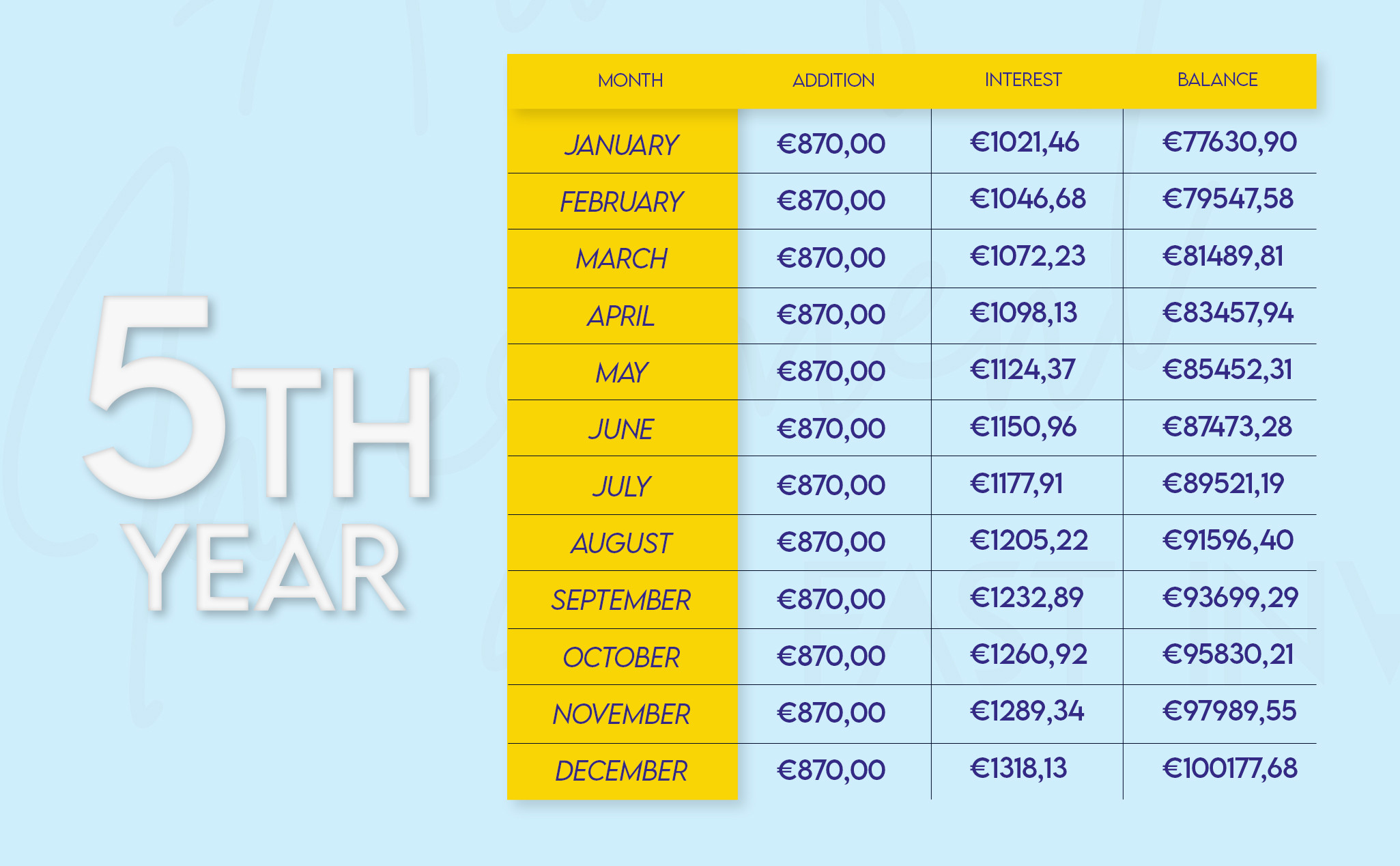 Commitment Over Luck
As you can see, Ollie's ability to turn his €10k into a €100k in 5 years didn't have much to do with luck. His commitment to securing a better financial future, paired with the right investment tools, allowed him to make money while he sleeps. The money he earned will not only pay for his weekends away now - he'll be able to do so much more than that. Just a few examples…
Make a down payment on a house;

Buy a new car;

Pay for a specialist graphic design course;

Buy new equipment for his work;

Or - travel the world if he'd like!
But, you know what Ollie has decided? Whatever he ends up doing with the money he has earned, he's going to continue investing a large chunk of it.
So is it wise to rely on your salary to be your only income stream? Think about it. It might all seem reasonable now - you might have a job you love, friendly colleagues, and a great boss. But what does the future hold? You never know. Especially with such a simple and, at the same time, scary matter as COVID-19. That's why it's essential to have a plan B in case you get fired or get sick and can't work anymore. And even if you are fortunate not to get fired or get sick, you are going to get old, and you will eventually have to retire. Are you ready for it? It's likely that when you retire, you'll face an income drop of up to 50%. Taking a strategic approach planning for retirement and expanding wealth by adding new investment products to the mix is what will eventually save the future pensioners from money worries. If you haven't made your calculations yet, it's about time! Investing with the FAST INVEST P2P Alternative Investment platform provides a great way to gradually build up a reliable income stream that can complement your salary or your future funds. Start investing now. It's better to be safe than sorry!