With P2P providing such a stable market, it makes the ideal base from which to begin an investment portfolio. It's quick, it's easy, and because you can do everything yourself – no need for brokers, or even much knowledge beyond plain common sense – there are no hidden fees to eat into your return. This is why the FAST INVEST alternative investment platform is gradually gaining much recognition from happy investors. We just reached 300 reviews on Trustpilot with a score of 8.6. Here's a summary of what our customers like about us and what improvements could be made.

FAST INVEST has one of the most significant Returns On Investment in the market. According to 2018 results, investors received an average 14,3% return on their investment compared to 12.78% in 2017. The definite increase was possible because of excellent management, strategic partnerships, and top-end technological solutions. To make it even better, there are no hidden fees on the platform. Fifty-three of our investors shared their experience of receiving high returns, while 8 of them noticed the decline of the interest. Fortunately, we are growing and receiving high demand from the investors, but, unfortunately, it is challenging to keep the supply of high-interest loans, but we are working on improvements.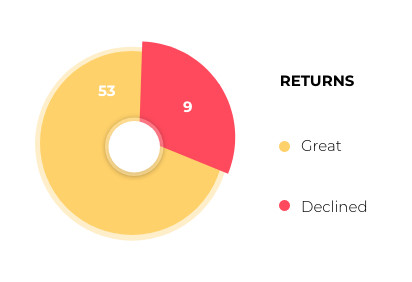 Depending on the type of investment that you opt for, there are also a variety of tools available to help maximize your return. Many people prefer to retain complete control of their assets, which is fine, but if you're leading a busy life, you can often miss out. Auto Invest tool – such as the one developed by FAST INVEST – use algorithms to recognize new potential investments based upon user's pre-selected criteria. This means that your money is never idle – in P2P, for example, when your monthly return gets paid, it can be automatically reinvested in a new opportunity. Thus your income continues to grow, while you continue to go about your regular business. It's one of the quickest ways to generate a passive income. Sixteen investors expressed their liking towards our Auto-Invest tool, though we did receive two reviews dissatisfied by the fact that the minimum investment amount in Auto invest is €10. But it is always possible to manually invest from €1 at FAST INVEST since we indeed offer the lowest entry point.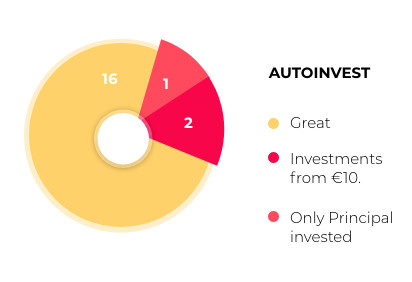 Our top-notch ninjas solve problems in seconds. They fight for customers' satisfaction intensively and nourish the relationship. Eighteen of our customers expressed satisfaction with our support, while five were dissatisfied, 3 of which expressed their opinion in January, during the holiday season when the operations were slowed down.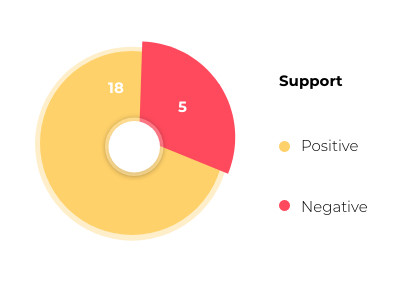 Most platforms in the market have strict rules for buying back your investment. Also, they have a Secondary Market where an investor can sell the defaulted loans. Often the guarantee is triggered only when the loan repayment is delayed for more than 30 or in some cases, 60 days. Refund available as principal money alone or besides with interests. As well, some platforms offer small interest rates to waive the BuyBack guarantee option.
A BuyBack Guarantee protects all loans in the FAST INVEST pool. It is evident for us that all investments carry some risks. There is a possibility that the borrower will stop paying his repayments for multiple reasons. FAST INVEST is making sure that their customer's investment would be safe by compensating the payment if a borrower is ever late on scheduled loan payment just for three days. We all agree that our 3-day BuyBack Guarantee is excellent! Twenty of our investors expressed their opinion about it.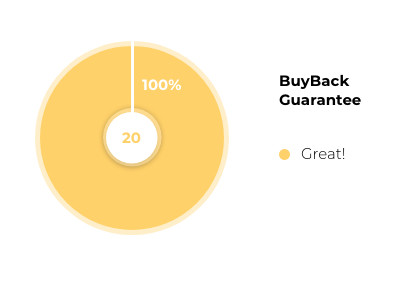 Responsive design is the "big thing" in web design right now. The ultimate goal of responsive design is to avoid unnecessary resizing, scrolling, zooming, or panning that occurs with sites that have not been optimized for different devices. It is often challenging to navigate these sites, and it may even cost you potential customers who become frustrated with trying to figure out how to do something. Most of our clients agree that FAST INVEST is indeed fast. Starting from account opening ending with the withdrawals, we are going to manage it FAST!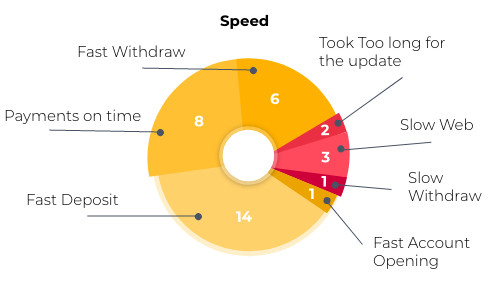 Our goal with this newly designed website is creating a user-friendly browsing experience for our trusted and valued customers. We see you appreciate our new uncluttered design that is easy to navigate with an enjoyable and engaging flow. More features, more opportunities! It's all about more significant profits and customers' joy! Fifty-three of our investors find our web user-friendly, and 18 of them find it to be beautiful too. We did receive the negative reviews about our account overview (3 reviews) and statement pages (4 reviews), but the majority of those were before our update in March. We took into account the concerns of our investors, and after the update, we made improvements. Three of our investors shared it. Magical experiences engage through the investing journey at FAST INVEST.



At FAST INVEST customer comes first. We have successfully lowered the investment risks so that everyone would have a chance to be an investor. The success that the platform faces is no coincidence. It is purely a result of the hard work that the team put into the development of the platform. We will continue to disrupt the investment industry by providing high-quality services to our customers and helping them to make better investment decisions.