As you probably noticed Fast Invest platform received a lot of changes during the last couple of months. Our financial development team in cooperation with the IT team has been working diligently to update Fast Invest website - make it faster, easier and more enjoyable.
Yesterday we made a final hotfix update, which fixed many website responsive errors. Fast Invest now is more mobile-friendly than it ever was.
SO, WHATS NEW?
We are updating the platform for the ease of use. The core idea behind every great Fintech company or product is to replace an existing service or solution with the new alternative that would be much faster, better and more convenient to a user.
We are proud that during these last couple of months we succeeded in "face-lifting" many different aspects of our investment platform. However, this newsletter edition is made exclusively for AUTOINVEST TOOL.
Without any further a due, let's jump right into it!

For quite some time our investors were asking to redesign AutoInvest tool, which was outdated and difficult to navigate. It did not fit the overall direction Fast Invest is heading towards simplicity and ease of use.
First things first - our experience designers came up with the idea of PRESETS.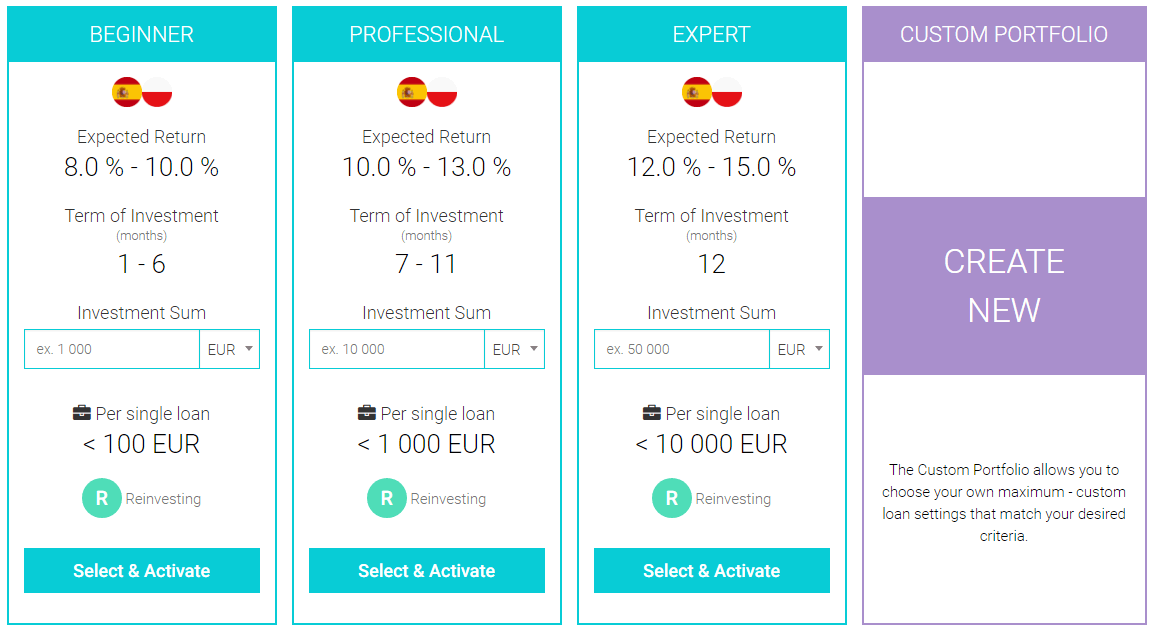 That is pre-created AutoInvest portfolio presets that lack only for the user to add an amount of money wished to be invested and push "Select and Activate". Easy, fast and enjoyable solution to otherwise outdated and worn out design.
Choosing already pre-created AutoInvest is easy, fast and ejoyable. Choose the one that fits your needs the best, add amount and click Select&Activate! Done.
Beginner is for people who are still trying the system out. Return ratio is 8%-10%, with set 1-6 month term, when the single investment will not be bigger than 100 Euro or Polish Zloty.
Professional preset is for people who feel comfortable and are ready to step further their financial freedom. With return expectancy set to 10%-13% and 7 to 11-month term - this presents fits perfectly in the middle.
Expert - now that is a preset for the investor who is ready to step it up and go strong. With expected return set to 12%-15% and a 12-month term, it is the highest performance delivering portfolio preset.
EDITING YOUR PORTFOLIO LIST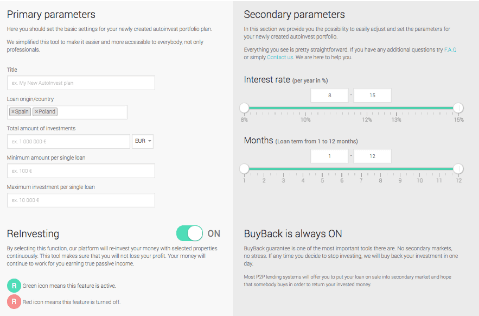 Now there are two distinct sections, which control separate parameters - location and financial. Everybody loves sliders; it's easy, fast and fun way to perform an otherwise boring task.
AutoInvest portfolio list tasted freshness as well.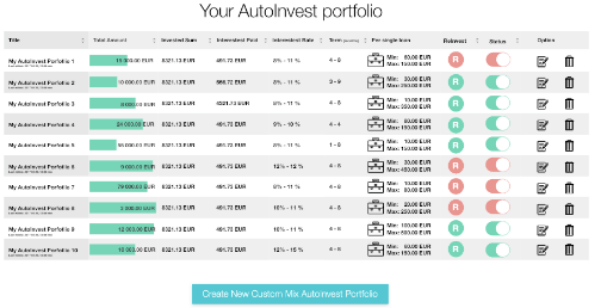 More visually appealing and easy to navigate. You no longer need to finish two Master's Degrees in Finance and IT to find "Interest received" or how much of your initial sum is invested. We created green bars for more visual comprehension.
Our design team added one more incredibly cool slider that enables you in just one click pause your selected AutoInvest portfolio. Now that is very cool:) Everything else is pretty much self-explanatory and intuitive.