There is no secret that the financial world is a difficult field which requires a lot of knowledge and practice. Either way each day you can hear gossips about easy and rewarding investment from P2P, stocks or any other investment opportunity.
The truth is, nothing comes with ease and lack of effort. Don't be naive! Even with the tremendous progress in financial services, you must know how to plan and invest your funds on your own. Everything comes with knowledge and experience, the same way you mature with each balance sheet.
You have to start from building your financial authority by reading some financial, investment or money related material. As well you must make comparisons, analyze different investment tools, platforms or statistics of anything that you want to invest with. Only after you feed yourself with the wisdom of financial magic and understand the financial terms and investment jargon, you will make the right steps forward your financial success.
FAST INVEST encourages every investor to grow their knowledge about investments that is why we decided to prepare an educational info-graph of main features of top Peer-To-Peer finance sector players.
Your attention must go on features like:
BuyBack Guarantee - is usually indicating that the investment platform has secured their investor's assets from loss if the loans that they are invested in gets defaulted. However, BuyBack process usually is not very convenient as it may take up to 30 or 60 days to receive your assets back;
MoneyBack Guarantee – whenever an investor invests, the invested assets are locked for a certain period. Withdrawing the money before the end date is not possible or it may be sold in the secondary market, which again takes some time. MoneyBack guarantee usually works as a guarantee which states that it is possible to sell an investment before the end date without a secondary market without any loss of the principal sum;
Secondary Market – it is a place in investment platforms where an investor may sell or buy an investment to or from any other registered user. It is possible to earn profit from doing so, but it has its risks as well in order to sell an investment it does take time;
Auto Invest – is a tool which allows choosing an investment plan which is carried automatically by the system. It usually can be paused or canceled at any time;
ROI – a return of investment shows the amount of return in a particular investment or all the portfolio. To receive the best ROI, you must diversify your portfolio by choosing the different type of investments;
Service Fee – different platforms have different fees. Whenever choosing a platform investor must read all the information about the fees that later there wouldn't be any surprises;
Security Measures – cybersecurity is a necessity for every online investment platform. What is the point of high return of interest or good user experience if the platform can be breached at any time? Security of the website can be checked by using SOPHOS Security Header Checker.
Important to notice, different companies are using the same features with a variety of meanings, terms or conditions. Also because of undisclosed or outdated information collected data may be inaccurate. Find your best investment platform in the following table: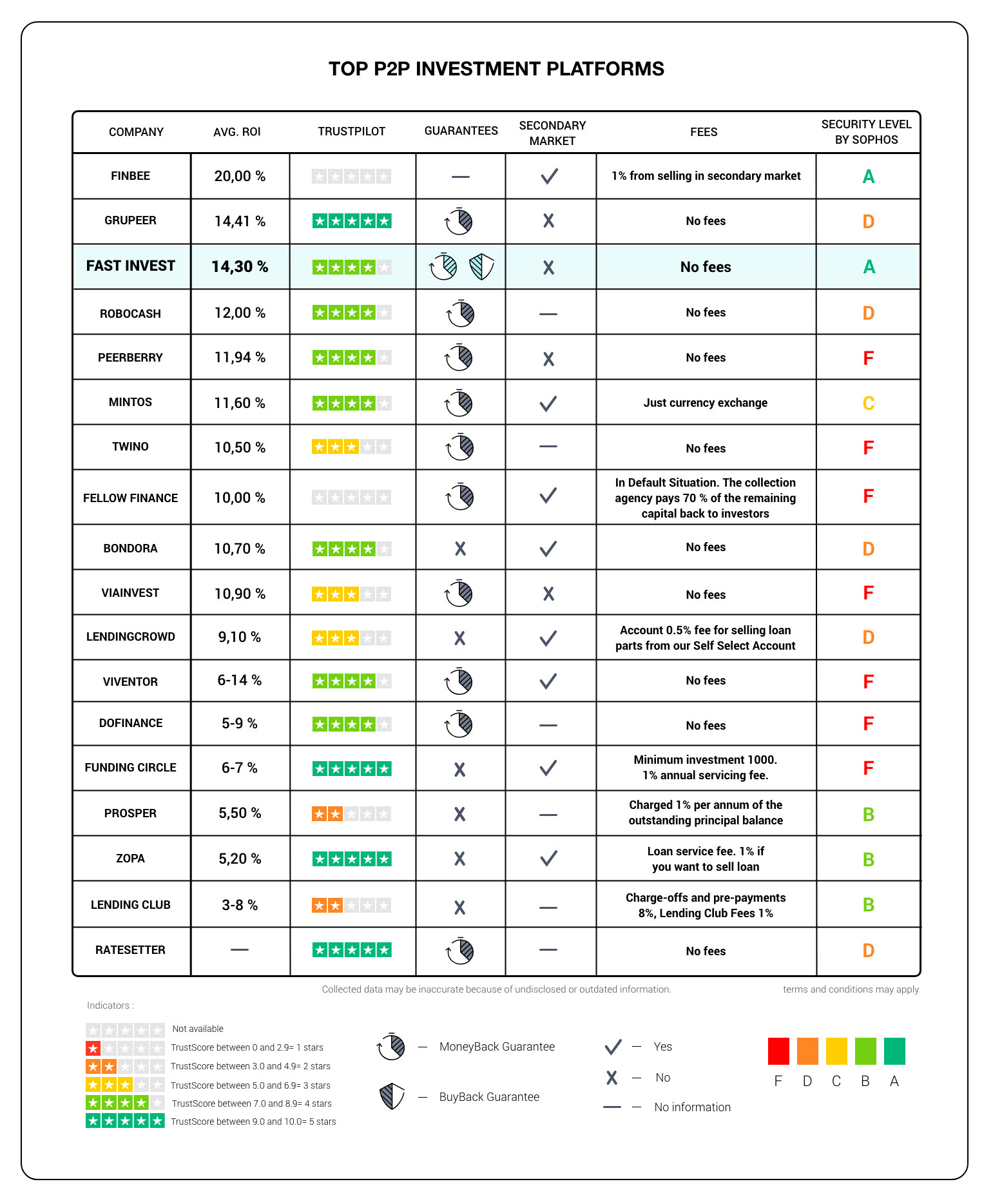 BuyBack Guarantee. Most platforms in the market have strict rules for buying back your investment. Also, they have a Secondary Market where an investor can sell the defaulted loans. Often guarantee is triggered only when the loan repayment is delayed for more than 30 or in some cases 60 days. Refund available as principal money alone or in addition with interests. As well, some platforms offer small interest rates in order to waive BuyBack guarantee option.
All loans in FAST INVEST pool are protected by a BuyBack Guarantee. It is evident for us that all investments carry some risks. There is a possibility that the borrower will stop paying his repayments for multiple reasons. FAST INVEST is making sure that their customer's investment would be safe by compensating the payment if a borrower is ever late on scheduled loan payment just for three days.
MoneyBack Guarantee. FAST INVEST platform offers a unique MoneyBack Guarantee that investors are not used to. If anyone decides to stop investing at any loan, FAST INVEST will buy the investment back in one day. Investors do not need to worry about their assets for a month or two anymore. They can receive the funds immediately. After selling the investment investor receives all of the principal sum.
Secondary market. Most platforms offer a possibility to use the Secondary Market option. It allows you to sell or buy an investment to or from another platform user. Often a lot of loans which are defaulted gets listed at the Secondary Market that means that you need to spend a lot of time to find a good investment to buy. As well selling an investment may take some time, because other investors have to buy it from you.
FAST INVEST doesn't provide Secondary Market option because of the MoneyBack Guarantee. Our customers have no restraints with its money, and this feature makes a huge advantage for us. Investors do not need to worry about their assets for a month or two anymore. They can receive the funds immediately. By establishing MoneyBack Guarantee, we have eliminated the need of the Secondary Market. In this way investors do not need to worry about the slow money liquidity anymore, they can get their assets back anytime.
High ROI. FAST INVEST has one of the biggest Return On Investment in the market. We offer interest rates from 9% up to 16%. According to 2018 results, investors received an average 14,3% return on their investment compared to 12.78% in 2017. The positive increase was possible because of excellent management, strategic partnerships, and top-end technological solutions. To make it even better there are no hidden fees on the platform.
At FAST INVEST customer comes first. We have successfully lowered the investment risks so that everyone would have a chance to be an investor. The success that the platform faces is no coincidence. It is purely a result of the hard work that the team put into the development of the platform. We will continue to disrupt the investment industry by providing high-quality services to our customers and helping them to make better investment decisions.